HIGH-TECH MARKETING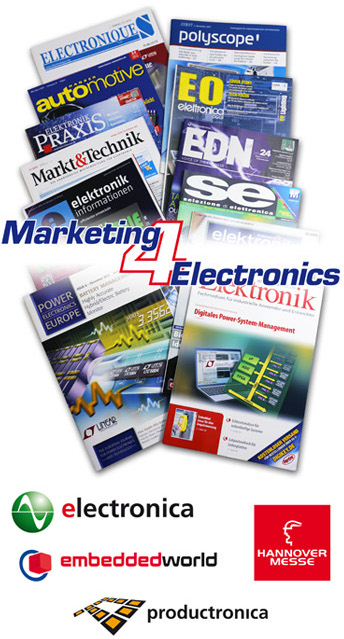 Our label Marketing4Electronics stands for a complete range of services customized for the IT, Hightech and Electronics Industry. In this branch we have specialized in supporting foreign companies (mainly from the U.S.) that wish to start or increase their business in Germany and Europe.
Your advantage: Our specialization:
We know the market (and the market knows us). We know where and how to run effective and target oriented advertising in this environment. You also will benefit from our distinguished contacts within the branch.
Your advantage: Our competence:
Your company will profit from our know-how and over 40 years of experience in the various sectors of advertising as well as in the marketing-mix.
Your advantage: Our extensive service range:
FULL-SERVICE is a commitment for us. We are your single source covering all the marketing needs for your business in Germany and Europe
Your advantage: Our individual support:
We guarantee to provide customized solutions specially adapted for your company and individual support from first planning phase to finished project.
YOUR SUCCESS IS OUR GOAL!
Long-term relationships with satisfied customers, from start-ups to major international corporations, are the proof of our professionalism and reliability.